Asthma is the most common chronic respiratory disease in children. This onsite course will provide an overview of current treatment options to fulfill the educational needs of a constantly evolving field.
Participants will learn about different perspectives and asthma challenges in different healthcare settings, and about the patient/parents perspective.
Key aspects presented will include asthma development and pathogenesis, the influence of the microbiome and nutrition, and influence of viral infection, among others.
The core part of the course will deal with strategies to find the correct diagnosis and will provide general asthma treatment essentials, as well as asthma prevention and risk factors for asthma attacks. Inhalation techniques, adherence to treatment and a physiotherapeutic view on asthma will be included. Furthermore, severe asthma will be discussed.
Course participants will have the opportunity to discuss any specific topic with the experts.
Course format
Lectures
Practical workshops
Hands-on sessions
Case presentations
Online videos
Topics
Asthma around the globe, challenges in different health care settings
Asthma development and pathogenesis
Asthma diagnosis and differential diagnosis
Asthma treatment and exacerbation prevention
Target audience
Clinicians
General Paediatricians
Respiratory Specialists
Trainees
Specialised Paediatric Pulmonologists
Specialised Nurses
Learning outcomes
Following this course, participants will be able to:
Diagnose asthma
Treat mild, moderate and severe asthma
Find differential diagnostic pathways
Learn about non-adherence to treatment and possible ways to prevent this
Recognise risk factors for asthma exacerbations
CME credits
This event has been accredited with the Mark of Excellence by the European Board for Accreditation in Pneumology (EBAP) with 16.5 CME credits.
The number of credits that you will receive corresponds to your attendance during the conference. Please note that you need to sign the register of attendance each day to ensure that you receive the correct amount of CME credits.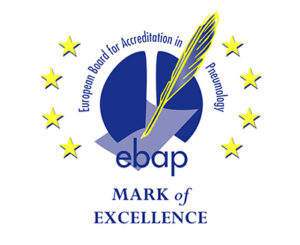 | | | |
| --- | --- | --- |
| Category | Early bird | Standard |
| Early Career ERS Members | €450 | €500 |
| ERS members | €550 | €600 |
| Non-ERS Members | €650 | €700 |
| Industry (ERS Members & non-Members) | €1,100 | €1,100 |
Early-bird fee is available until 23:59 CET on Friday 8 September, 2023. Then, standard fee applies.
Cancellation policy
Upon receipt of a written cancellation, a refund of fees, minus €50 administrative fee, will be applied up to 6 weeks before the course. After this date no refund will be made for cancellations.
General conditions
Please note that this course will not be streamed.
By agreeing to attend this course, you agree to comply with reasonable instructions and safety policies of local host facilities. The organiser does not endorse any hotel, restaurant or other facility which may be recommended. If the course involves patients acting as volunteers, you agree to respect their wishes, dignity and needs.
You may access the General Terms & Conditions at any time.
If you have any further questions, please do not hesitate to contact us at education@ersnet.org
The course will be held at the Hilton Vienna Danube Waterfront from 16th to 18th November 2023.
Hilton Vienna Danube Waterfront
Handelskai 269
1020 Wien
Austria
+43 1 72777
Online booking
Special rates for a limited number of rooms for course participants can be booked directly using this link or by contacting the hotel by phone (please mention "ERS special rate").
The room charges are not included in the registration fee and are subject to availability:
Two Queen Bed Guest Room – 169.00€
ERS is not responsible for the room availability at this hotel. The hotel will book rooms on a first-come, first-served basis. Credit card details will be required as payment for the room will be taken at time of booking.
Deadline to benefit of special rates for booking: October 25, 2023.
Please note that ERS is not responsible for organising hotel bookings and you are encouraged to make all necessary reservations as soon as possible.
Would you like to get involved in the programme?
By submitting a clinical case, your work could be presented during the case-based practical workshops of the Paediatric asthma course.
Take this opportunity and submit your case covering any of the topics from the programme modules.
Please access the case report template and prepare yourself for a five-minute LIVE presentation onsite. Please make sure that the case does not contain any patient data and that the topic is specified and upload your presentation here before Monday 16 October, 2023.
The organising committee will select cases to be presented and discussed and selected submitters will be informed by email.